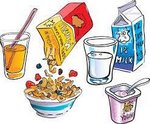 School Breakfast
Celebrate National School Breakfast Week: March 4-8
School Breakfast
Making breakfast part of the regular school day changes kids' lives.
Five ways school breakfast benefits kids:
1. Higher Test Scores: Hunger makes school harder. On average, students who eat school breakfast achieve 17.5 percent higher scores on standardized math tests.
2. Calmer Classrooms: Children who do not regularly get enough nutritious food to eat tend to have significantly higher levels of behavioral, emotional and educational problems.
3. Fewer Trips to the Nurse: When kids come to school hungry, they visit the school nurse more often due to stomachaches and headaches. Kids who struggle with hunger are also likely to be sick more often, slower to recover from illness, hospitalized more frequently and more susceptible to obesity.
4. Stronger Attendance & Graduation Rates: On average, students who eat school breakfast attend 1.5 more days per year. Students who attend class more regularly are 20 percent more likely to graduate from high school.
5. Maximizes Our Country's Future: When children are hungry, they struggle to grow up into strong, healthy and productive members of our society. This comes at a massive cost to the American economy and its potential.
Every time we feed a child, we're unlocking their ability to grow up to become the next future teachers, scientists and entrepreneurs. To learn more visit: http://bestpractices.nokidhungry.org/