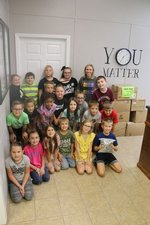 Ms. Holley`s Classroom Rocks!
180.01 pounds of pull tabs collected!
Straughn Elementary students recently participated in a September Service Project for Childhood Cancer Awareness Month. Students collected 180.01 pounds of pull tabs for the Ronald McDonald House. The recycled beverage tabs help support Ronald McDonald House, providing a home away from home that serves and sustains families of children being treated at area hospitals and health-related facilities.
A one gallon bag of tabs (2.8 pounds) provides one night's stay at RMH. The students of SES collected enough tabs to provide families with 64.29 nights! The two homerooms with the most pull tabs collected were Mrs. Holley's 3rd grade class with 31.97 pounds, and Mrs. Harold's 1st grade class with 30.59 pounds.
By Mandi Morris, SES Counselor